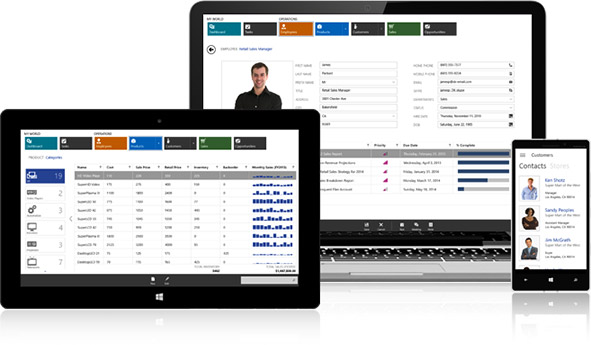 Download the Beta
Our first UWP beta will include a rich collection of UI controls including the DevExpress Grid, Ribbon and Charting Suite. To get the broadest possible feedback from users such as yourself, we've made the beta available to everyone with an active Windows 8 XAML, DXperience or Universal subscription.
To begin using the beta, simply log onto our website, navigate to the Download Manager and download the "UI Controls for Windows Universal Apps Installer" (version 15.1.6).
Get Started
Once you've downloaded the UWP installer, take a moment to review our demo applications and see how apps built with DevExpress UWP Controls adapt to different devices (phone, tablet, and desktop). When you're ready to integrate the controls, simply create a new UWP application or re-use code from your existing Windows 8.1 app.
Whether creating an entirely new Windows 10 project or porting an existing 8.1 solution, we've prepared the following tutorials so you can learn the ins-and-outs of our UWP controls as quickly as possible.
Feedback
Like with other DevExpress beta programs, please use the DevExpress Support Center to communicate with members of our support team. We'll be more than happy to follow-up on all your inquiries.
Licensing
When we officially release our UWP Controls, those with active Windows 8 XAML, DXperience and Universal Subscription at the time of shipment, will receive the new controls as part of their subscription.
If you're not currently subscribed but need access to the beta and want to receive these new UWP controls once released, please take a moment to purchase your new or renew an expired subscription via our website.
Get Trained by DevExpress
Our next European training event is just over a month away. Two separate three-day classes cover ASP.NET and WPF platforms in detail. As always, you'll have plenty of interaction with our trainer in the form of hands-on-labs and direct Q&A…something that's an exclusive benefit of classroom training. Seating is limited, so act quickly and reserve the remaining spots.
Can't make it to Germany in October? Consider our WinForms and ASP.NET Online Training courses. Available for purchase on our website.