With Indigo Studio V1, you can:
Design storyboards in real-world context, while keeping the focus on your users, using more than 100 integrated scenes with people, places, and devices.
Prototype highly interactive app designs that explore various user interaction flows with fast and fluid transitions and animations.
Design UIs using a simple, clutter-Free WYSIWYG interface.
Share your best designs with key stakeholders.
In just a few short weeks, Infragistics will unveil Indigo Studio V2! By downloading V1 now, you'll be entitled to enormous savings when it's time to upgrade. This deal will only be extended to existing Indigo Studio V1 customers, so don't miss out on this chance to save.

Check out this video. Did you like what you saw? Then you have nothing to lose! Download Indigo Studio V1 today!
Have a friend that might love Indigo Studio, too? Pass it on.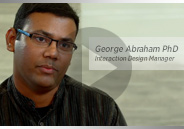 Want to check out Indigo Studio in action, and see firsthand just how much it can help you?

Let George Abraham, the interaction design manager behind Indigo Studio, show you the way!